I am a no nonsense type of girl. Very happy to accommodate and take great pleasures out of doing so. I am natural all over – no plastic surgery, botox or false eyelashes. I come with my faults and hope  you love them as much as I do. I love dogs, especially mine. I try and be as loyal, devoted and unwavering to my Master as my dog is to me (and his dog to him).
I don't judge people over age, body type, ability/disability, experience, sexual desires, status, gender or music taste. I do judge people who are rude, impatient and demanding of me when we have never met. When your scenes are intense and physical down time needs to be replenishing and rejuvenating – ie play hard, love hard. What you take you need to replace.
I am a great dinner companion and conversation is never dull.
I have a Master and a female slave but am predominantly single so open to engaging with many others professionally on an emotional level. I like sex but orgasm much harder doing other things.
I have never had a proper Mistress – that is 24/7 like my Master is. I prefer to be dominated by men. The only Mistress I have ever had was Transgender and I was 19 years old. She kidnapped me from my house in a limo, took me to Stanton Island and forced me to dress up in corsets, suspender belt and vintage stockings. She tied me to the ceiling and beat me with a riding crop after objectifying me. I was obsessed with her as we worked at the dungeon together in NYC so this culmination blew my little teenage mind.
I love all things vintage (as those of you who have seen me in my studio in Sydney will know!) and have a sweet spot for the Royal Family – it's a bit more kitsch than a true interest.
I travel a lot as you will know, International travel is always for fun and not work. Domestic travel is monthly and often bimonthly. I will travel interstate for a prepaid 2 hour session with travel costs covered. Only for regulars though! Maybe we can meet when I am in your city next.
I don't drink much, like early nights and early mornings. I am a student so not always available when I'm in Sydney – I prefer to tour. I love suits. I always wear a suit and love a man in a suit. I love butch women in leather and I'm experimenting with being in leather bondage, I'd love to try this more.
I am still on the hunt for a good cane and its like Disney land for me visiting Mistress Servalan as she has the most orgasmic collection.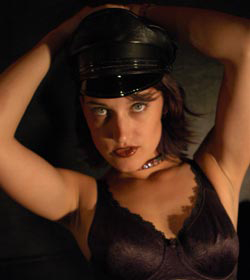 this is me at 21 years old.